The Guardian has an article about Secretary of State John Kerry's West Bank trip today that includes this great picture of John Kerry: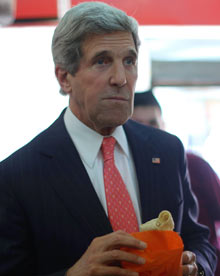 ...with the following (un)intentionally hilarious caption:
"John Kerry shows delight at his shawarma sandwich in Ramallah."
Kerry visited Palestinian President Mahmoud Abbas today to discuss a potential reopening of peace talks between Israel and Palestine. He took a break from the meetings to enjoy some classic Palestinian food: shawarma, knafeh, and Arabic coffee at a local spot in Al-Bireh (near Ramallah).
Here's a shot of him diving into a sticky bite of knafeh:
(Is it possible to look dignified while standing, eating, and holding the plate?)